Budapest Metro was opened in 1896 to celebrate the Hungarian Millennium; it is the second oldest metro system in Europe after London.
Metro Budapest Metro, in Hungarian Budapesti metró, opened in 1896 to celebrate the Millennium of Hungary; it is the second oldest metro system in Europe after London. In 2002 the historical line M1 was declared a World Heritage Site.
Metro lines
Metro lines Attualmente la metropolitanda di Budapest è composta da quattro linee: M1 (gialla), M2 (rossa) e M3 (blu). La M4 (verde) è la più recente: il primo segmento ha aperto il 28 marzo 2014 ed è stata pesantemente criticata per i notevoli ritardi nei lavori, tuttora in corso.
The Budapest metro system is made up of four lines: M1 (yellow), M2 (red), and M3 (blu). M4 (green) is the newest line. Its first segment was opened on March 28th 2014, and the whole project was severely criticized for the severe delays in the works, which are now still in progress.
Line M1 földalatti, Mexikói út – Vörösmarty tér, is about 5 km long; it was the oldest metro line operating in the Continental Europe and its stations are characterized by a liberty style.
Line M2 kelet-nyugati metró, Örs vezér tere – Déli pályaudvar, connects the eastern part of Budapest with Buda to the west, crossing the Danube for about 10 km. The eastern terminal Örs vezér tere interchanges with HÉV suburban railway lines.
Line M3 észak-déli metró, Kobánya–Kispest – Újpest-Központ, runs in the north-south direction through the eastern side of Budapest for about 18 km. The southern terminal Kobánya-Kispest interchanges with the Hungarian railway lines MÁV. The first station was opened in 1976 (Deák tér – Nagyvárad tér), and then it was extended in both directions. In the future the M3 line will be extended to the south to the Ferihegy airport 2, and to the north to Középso körút. Linea M4 connects Keleti to Kelenföld (interchanging with line M3 at Kálvin tér). In the future it will be extended to Újpalota Bovítés on one side and to Gazdagrét on the other. Line M5 is still under construction. It will connect Varga Jeno tér to Pomázi út, double crossing the Danube river and Margaret Island.
Budapest Metro has four lines and is relatively easy to use. Three of the four metro lines intersect only once, at Deák Ferenc Square.
Tips to keep in mind before using the Budapest Metro:
You must validate your ticket in any of the transport company's orange validating machines before you get on the metro.
A single ticket is only valid for a one-way uninterrupted ride. This means that you may not change lines. You should validate another single ticket if you need to take another metro line. Moreover, a one-journey is valid for 80 minutes (120 minutes at night-time).
Information on the various lines and most significant metro stations:
Line 1 (yellow line)
Line 1 runs from Vörösmarty tér to Mexikói út. This line stops at numerous landmarks and museums, making it very useful for tourists.
It runs through Andrássy Avenue and stops at the Hungarian State Opera House, the Oktogon Intersection, Heroes' Square and City Park. It also stops very near the Chain Bridge.
The Metro line 1 is one of the easiest lines to take since it is not very deep and; therefore, you will not have to walk down many stairs. In addition, its stations are curiously decorated.
Line 2 (red line)
It crosses Budapest from Buda's Déli Pályaudvar (Déli Railway Station) to Pest's Örs vezér Square. The most useful stations for tourists are Kossuth Square, where the Hungarian Parliament is located, Batthyány Square, which is the Fisherman's Bastion metro stop and Astoria, the closest station to the Great Synagogue.
Line 3 (blue line)
You will find this route useful if you take the bus 200E from the Airport to the city centre. The bus's final destination is Köbánya-Kispest, which is the first Line 3 metro station.
Line 3 also stops at the Great Market Hall (Kálvin Tér).
Line 4 (green line)
Opened in 2014, the metro line 4 runs for 4 miles (7 kilometres). It connects the two main railway stations in the city: Keleti Railway Station and Kelenföld Railway Station.
Schedule
Budapest Metro opens every day at 4:30 am and runs until 11 pm. The trains pass every 2 to 15 minutes depending on the time of day.
Tariffs
BKK, Budapest's public transport company issues the same tickets and travel passes for all of the city's transport system. Moreover, transport in Hungary's capital always costs the same. Check out the following article for more information on the transport tickets and passes: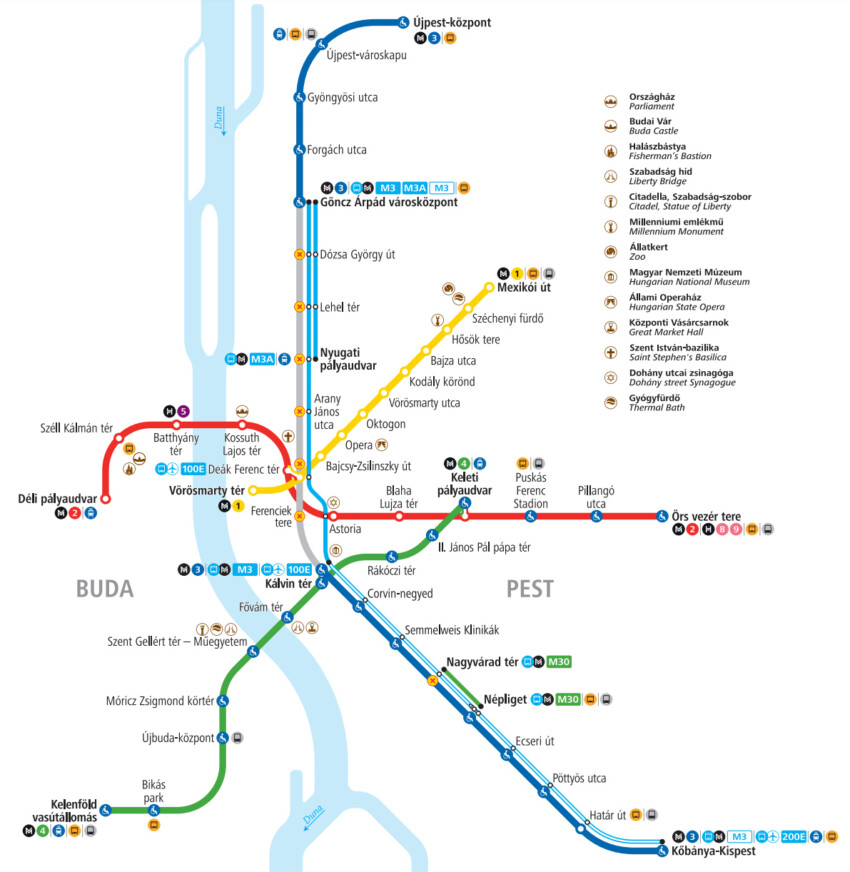 Budapest Metro Map
Below you can see the Budapest Metro map with the 4 lines and stops at the main sights in Budapest. Click on the map to enlarge it. Metro map to download and print You can also download and print a map of Budapest's metro lines in PDF format by clicking on the button below.
Metro Map in PDF
Underground Railway Museum, a museum area displaying historical carriages, photographies, and maps of the first continental railway system. – https://www.budapest.org/en/getting-around-budapest/budapest-metro/